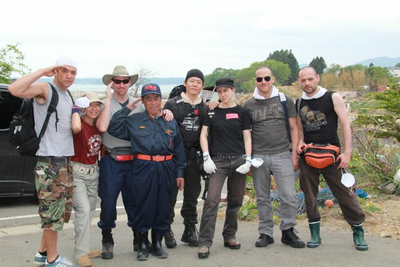 May 20, 2011
After 3 weeks of planning a volunteer trip to Tohoku, we departed at 7:30 AM with 8 volunteers and two heavily packed SUV. Our destination is Kesennuma, Miyagi Prefecture, 500 KM from Tokyo. The town is one of many that was very heavily damaged when a massive Tsunami wave crashed ashore on March 11.
The Kesennuma Volunteer center organizes daily projects to help with the clean up, and provides a campsite and fresh water. That's it. Anything and everything else needs to be brought up. A grocery store nearby provides some fresh food, but we all pitched in to set up a pretty nice base camp.
The 5 hour drive from Tokyo went very quickly as I was anxious to get on site. There were a few spots where the highway was obviously damaged by the quake, but nothing major. The last 60 KM were on a small two lane road through small towns, and there was very little noticeable damage which was surprising given the biggest quake in Japanese history hit only two months ago. Then we made Kesennuma and everything changed dramatically.
We arrived at the volunteer center, registered and set up camp. There were some kids playing in the park next to the campsite, and they helped haul our gear and set up. It was great to see them laughing.
I went for a run, and found that only 200 meters from our camp the tsunami had destroyed a good square mile swath of land. The camp site is almost 2 miles from the ocean…….
May 21, 2011
Up early this morning. 4 AM sunrise, 530 AM downpour and 6 AM wake up bell from the school across the street. A nice breakfast of eggs and cereal and a drive up the coast toward Kesennuma Town. We are staying in a small village called Motoyoshi which was hit as hard as any of the hundreds of towns along the 150 miles of coast that was destroyed by the Tsunami. Words can not describe the damage
After a quick briefing, we were dispatched about 2 miles up to coast to a small hamlet around a marina to clean out the site of what used to be the home of a 55 year old fisherman named Koike. We were all excited to get to work. Our first task was to clear hundreds of feet of fishing nets that had been wrapped around trees in the yard. Only very sharp knives could cut through the nets and remove the jumbles. Koike san looked on with sadness as we cut up well over $100,000 worth of nets that had provided food for his family for the last 25 years. The work was back breaking but no one complained.
The before and after pictures tell a tale of how 12 people can accomplish great things. We pulled, we cut, we sawed, we hauled and we sweat buckets. Not only did we clear hundreds of pounds of rubble, but we found pictures, plates, and other personal items that the Koike family was happy to find. At the end of the day, a true feeling of accomplishment was felt among all of us.
After dinner we visited the Seiyo Temple where the Koike family and others have been living as evacuees since the tsunami. We brought a big bottle (big) of sake and enjoyed a great time discussing our work today. We also heard from Onodera san about how he drove at full speed in his car to escape the wave lapping at his heels. Koike san also told us about the $20,000 in insurance that he will receive. Not nearly enough to cover the $1M it will cost to purchase and outfit a new boat, not to mention build a new house and put his kids through school. The hard times for him and others are only just beginning.
May 22, 2011
Rain today. We geared up with the understanding that we would get wet, and were disappointed to hear that our worksite projects had been cancelled. We were asked to join a work group that was headed a short distance away to clean a road that was covered in mud, and the dust was being blown into a local hospital causing some discomfort to the patients. 20 of us shoveled mud from the road for about an hour. It was after about 30 minutes that we quickly came to the conclusion that sweeping a tiny road surrounded for hundreds of yards in every direction by total destruction could not be classified in our view as high priority. We cleaned as best we could, and broke from the group and headed to the worksite from the previous day.
The locals were shocked that we were prepared to work in the rain. It was at this moment that our relationship with this group of evacuees was sealed. After about an hour the weather cleared and we had another extremely productive day of cleaning the property of a local evacuee. Today's property was of an 80 year old woman who had lost her husband and is living with relatives 50 miles away.
That night we fired up the BBQ and had a feast. Two days of hard work had made us all HUNGRY! Easily one of the best meals I have had in a long time.
May 22, 2011
Today we worked on the property of Onodera san whose house is about 500 yards from the water, and about 60 feet above sea level. The houses above him were also heavily damaged meaning the wave cleared 100 feet in this spot as well. Mountains of garbage awaited us as well as a huge roof from a house next door, and a 2 TON refrigerator that were tangled in the trees of the property. We needed to clear a path to the back of the property so they could remove a tractor and a truck that had been washed up.
The highlight of the day was finding a crayon drawing of a mommy, daddy and little girl in the rubble. It had been drawn 25 years ago by the daughter of Onodera san, and we were pleased to present it to him later that afternoon.
After work we drove 16 KM into Kesennuma City for a bath at the public bath. Our first bath after 3 days. Nice. After the bath we drove through Kesennuma Port. Nothing could have prepared me for what we saw. One mile by one mile had been completely ravaged by a 60 foot tsunami, and then destroyed by fire. Imagine a thousand tornadoes touching down at the same time, and then a firebombing run. It was incredible.
See the video link below.
We had dinner at a local pub and listened to tear jerking stories of survival from the locals. An 80 year old woman from a family of 8 was the only survivor. A man nailed his hand to the roof of his house so he would not be washed away. Mothers who put babies on their backs and ran to escape where caught by the wave and held on for dear life only to find that their children had drown. It went on and on.
May 23 and 24.
We continued to work on local properties and were very productive creating mountains of garbage and rubble that we separated into huge piles.
At the end of our stay, we all committed to coming back, and searching for more volunteers until we put 1000 hands in place to help with the rebuilding.
This trip has changed my life, and hopefully for a few days, gave some hope to what some may think is a hopeless situation.
Stay strong friends, you are in our thoughts daily.